This week in Broadcast Technology, We had to go on a scavenger hunt around the school. During this scavenger hunt we had to take videos of certain things and incorporate wide,medium,and tight shots. We also had to make sure we adjusted the light and kept the natural light behind the camera instead of in front due to the fact that the light would lead to the video being way to bright.This video scavenger hunt taught me how to use the space around me and incorporate that in a wide shot or a medium shot.Also tight shots helped me a lot in the scavenger hunt because I realized for a tight shot you didn't have to hover over the object or person but you needed to get enough detail so that whoever was looking at the video could tell what the main focus is. This scavenger hunt project taught me new techniques while taking a video, that I can't wait to use in my upcoming projects.

In the beginning of the semester, Mr.Goble asked us to capture interesting things in our lives that would tell the class about who we are; just to get a better understanding of who you are and what your are like due to the fact, that some of us don't know eachother. During the iAm videos, I found it hard to pick which pictures to choose from. I had so many pictures and I had to narrow it down to maybe 20-30 so, I found myself contemplating what picture I like more or, for instance, my family there were a lot of pictures and many people but, I was not able to add everyone in because I only had eight slots to fill in so, I thought it was hard to incorporate everyone. The other hard part during the video process was trying to upload my video on to school tube and it wasn't the uploading that was the major problem it was like having your video approved and just waiting for the video to go through this whole process. It was also hard because I could not find a solo shot with just me in it,due to the fact that I do not taking pictures by myself so I had to ask my mom and friends what their favorite pictures of me are because I literally could not decide ! My favorite part of this project is being able to tell everyone who I am and I like that it is in a video format because I am used to making a poster which become really boring after you do them every year. So now that it's a video it just changes things up which I think is pretty cool!
Powered by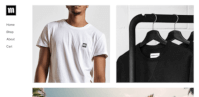 Create your own unique website with customizable templates.